It's the beginning of a whole new year and a brand new decade! The hustle and bustle of the holidays is past, and it's time to get back to life as usual. January is National Hot Tea Month, and we have some great ideas to help you celebrate your favorite tea. After water, tea is the second most consumed beverage the world over, and for good reason. There are so many delicious varieties, with some teas that come from sources other than the tea plant, that the possibilities for enjoying a cup of hot tea are almost endless. The perfect cup of tea starts with choosing a top quality tea product and brewing it properly. True teas should be brewed with boiling water, while herbal teas – also known as tisanes – are brewed with simmering water. Follow this handy brewing chart to guarantee success the next time you brew a cup. Storing your tea in an elegant bamboo tea box is a great way to keep things organized, fresh, and easy to access.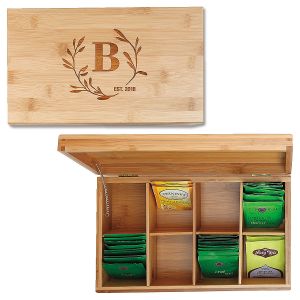 Tea isn't just for drinking, either; it can be used to supplement your spice cabinet, as a flavorful addition to marinades, sauces, dry rubs, and dressings, as a broth for soups, as poaching liquid, as a substitute for water when cooking rice and other grains, and as a fun addition to cookies, scones, pastries, and cakes for those who love to bake. You can even infuse tea leaves directly into milk for panna cotta, custard, or pudding, or into homemade ice cream. Here are some of our favorite ways to recover from the busyness of the holidays and celebrate Hot Tea Month:
If you love Chai Tea Latte from Starbucks, you're in luck! We found a copycat recipe from Snacks and Sips that delivers all the flavor of this iconic coffeehouse drink at a fraction of the price. Try this recipe at home the next time you crave this latte.
Starbucks Copycat Chai Tea Latte
2 chai tea bags
1/2 cup water
1 1/2 cup milk
2 tablespoons honey
Cinnamon and nutmeg (for garnish)
Brew tea in a small pan on the stove according to this brewing chart. Add in the milk and honey, reducing the heat to medium and warming the milk. Using a frother or immersion blender, blend until frothy (optional but highly recommended). Transfer to your favorite novelty ceramic mug or cup and serve topped with a sprinkle of cinnamon and nutmeg.
For a fun brunch idea, this recipe for green tea cookies is sure to please. Light and delicate but packed with flavor and healthy goodness, these little treats will put a smile on your face when you pair them with your favorite hot tea.
Green Tea Cookies
1 cup room temperature butter
1/3 cup green tea simple syrup
1 egg yolk
1 teaspoon lemon juice
2 1/4 cups all-purpose flour
1 teaspoon baking powder
In a large bowl, mix together the softened butter and syrup. Mix until smooth. Stir in the egg yolk and lemon juice. Blend in the flour and baking powder. Mix until well blended and dough is created. Wrap dough in waxed paper or plastic wrap and refrigerate for one hour. Preheat the oven to 375 degrees F. On a floured surface, roll out half dollar size balls of dough. Press dough balls onto ungreased baking sheets spaced one inch apart and flatten tops slightly with fork. Bake for 7 to 10 minutes in the preheated oven until the tops are dry and the edges begin to brown slightly. Store in an airtight container at room temperature after cooling.
What would a Sunday brunch or ladies' tea be without those cute little cucumber sandwiches? Here's our choice for an easy to execute recipe for cucumber tea sandwiches to serve at your next soiree.
Cucumber Tea Sandwiches
1/2 seedless cucumber
1/2 cup unsalted butter at room temperature or mayonnaise
1/2 cup coarsely chopped watercress leaves
16 slices of high-quality white bread
1/2 cup alfalfa sprouts or radishes
Salt
Peel the cucumber and slice extremely thin. Place the cucumber slices between two paper towels to remove any excess moisture while you move on to the next step. Combine butter or mayonnaise and watercress in a small bowl. Blend as smoothly as possible and then spread a thin layer of the mixture on each slice of bread. Butter only one side of each piece of bread.
On each of the buttered slices, place four cucumber slices. Arrange the slices with one in each corner to make cutting easier. Sprinkle each piece of bread with salt and place one tablespoon of alfalfa sprouts onto each piece.
Use a long sharp knife to cut away the crusts on each of the sandwiches and cut the large sandwiches into petite triangles or squares. Finally, arrange the sandwiches on an attractive platter or tiered serving tray. You can garnish the serving tray with grapes or parsley for added flair, or simply serve the sandwiches as they are positioned.
After all the heavy foods you may have consumed in the last few months between Thanksgiving, Christmas, and New Year's, why not warm your heart with tea during National Hot Tea Month in January? Invite a few friends over to enjoy a light brunch or lunch with tea and sandwiches, finishing with delicate tea cookies for dessert. We can't think of a better way to start the new year off right.