It's the beginning of a new year! The holidays are over, and life is getting back to a familiar routine. But even though the holidays are behind you, evidence of their presence may still linger in the form of decorations and other seasonal items that need to find a place to hang out until they're called into use again. You want to keep these items and have easy access to them, but they don't need to be at your fingertips. To that end, we've got some great post-holiday organization tips for you to help put things back in order.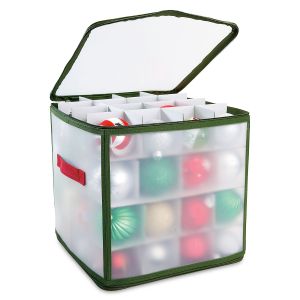 For ornaments: A partitioned ornament box is a great way to ensure your favorite ornaments survive the 11 months of storage (and possible relocation during that time) and remain intact. Whether you purchase one that is already designed with partitions or make one yourself using plastic or paper cups, wrapping each individual ornament in tissue will help ensure it doesn't become damaged in the coming months.
For wrapping paper: For all your leftover rolls of partially used wrapping paper, a vertical storage bin, box, or bag is the best way to keep everything together and prevent your paper from becoming wrinkled or damaged.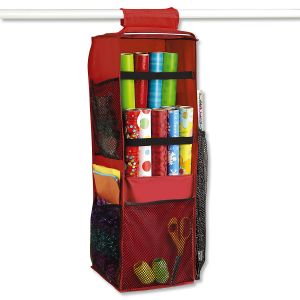 A hanging gift wrap organizer that fits over the closet rod in your guest room or spare room closet will keep things together and keep them safe until the next time you need to wrap a gift. Ours is made of sturdy polyester, elastic and mesh trim and attaches easily to your closet rod with Velcro™ straps.
For trees and wreaths: Keep your gorgeous holiday wreaths and
tree looking like new by storing them in textured PVC bags that wipe clean, keep moisture at bay, and zip closed securely. Our bags feature carrying handles and a clear top on the wreath bag so you can view the contents.
If you find that you're keeping ornaments or holiday décor items year after year that don't make it out of the storage box, perhaps it's time to donate those items to a local charity and free up some more closet space.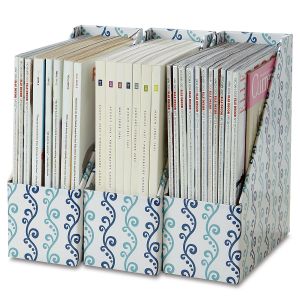 Magazine holders aren't just for keeping your favorite editions of Sunset magazine handy; they're also great for organizing folded gift wrap, small to medium gift bags, tissue, name tags, scissors and tape for a mini-wrapping station. Store them
on a shelf in your home office, guest room, or coat closet, or attach a holder to the inside of a cabinet door and always have what you need within reach to handle those spur-of-the-moment gift wrapping events.
To help organize your drawers, try using drawer dividers to help keep all your small bits and pieces from becoming tangled together, whether you use them in the kitchen, craft room, laundry room, or bedroom.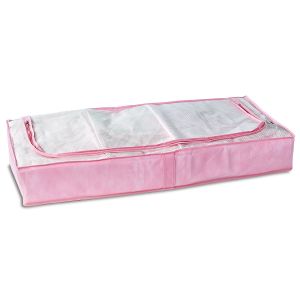 Don't forget the invisible storage available when you take advantage of the space under your bed. It's an easy way to make more room in your closet by storing off-season clothing out of sight using
under bed storage containers.
Speaking of your closet, a simple way to find out what's taking up unnecessary room is to take inventory of what you haven't worn in the last six months, what doesn't fit quite right, and anything that's uncomfortable (itchy, awkward, etc.). For hanging clothes, try turning all the hooks toward you. When you take something out to wear, put it back with the hook facing away from you. After six months, any hanger still facing the wrong way is holding a clothing item you haven't worn. If you haven't worn something for six months, you probably won't. That means it's ready for the donation bag.