Autumn has arrived across the country, bringing cooler weather and vibrantly colored changing leaves. Last month we suggested getting the whole family involved in decorating your house, entryway, and yard with fall décor. If you've already started your seasonal decorating, you're no doubt enjoying the changes and looking forward to everyone's favorite fall holiday, Thanksgiving. We've been putting our heads together to come up with fresh ideas for decorating your table, and we've got some great ways for you to create a show-stopping fall tablescape that will be the talk of any seasonal get-together, including Thanksgiving.
From the experts, at Sunset Magazine we got three fantastic tips for creating Thanksgiving floral arrangements to dress up your holiday table and bring the beauty of nature to your dining experience.
Use what nature provides. If you have seasonal foliage close at hand in your own backyard, take advantage of it by cutting fresh branches or blooming fall flowers to adorn your table. Use your fresh, free foliage as the base of a centerpiece, and supplement with multi-colored autumn gourds that can be purchased very inexpensively at most grocery, discount, or craft stores. If you have an herb garden, choose a few aromatic herbs such as lemon verbena and mint for a crisp, fresh scent or rosemary and basil for a warmer aroma.
Less structure, more splash. When arranging your centerpiece, go for a loose, informal approach, so your arrangement maintains a slightly "wild" appearance. After all, not everything in nature is exactly symmetrical. Use a tray or basket to contain all the elements in the center of your table but allow some trailing touches of vegetation to flow over the edges, or strew a few gold, orange, or crimson fall leaves on either side of the centerpiece.
Layer, layer, layer. Try adding an unexpected pop of color or two into your centerpiece to create interest and add drama to your tablescape. You can do this with your floral arrangement and in your place settings. There are no hard and fast rules about sticking to an autumn color palette; if pink is your favorite color, add a layer of it into your otherwise earth-toned decorations. Do what makes you smile, and your guests will enjoy it, too!
Candles are a popular addition to indoor décor during the colder months and can add a wonderful warm glow to your Thanksgiving table. Use all white candles of similar height or mix it up with varying sizes and heights in your favorite colors to add another layer of interest to your show-stopping tablescape. To add a personal touch to your table, use personalized cloth napkins in a vibrant red pepper hue, and accent with white cocktail napkins emblazoned with the family monogram.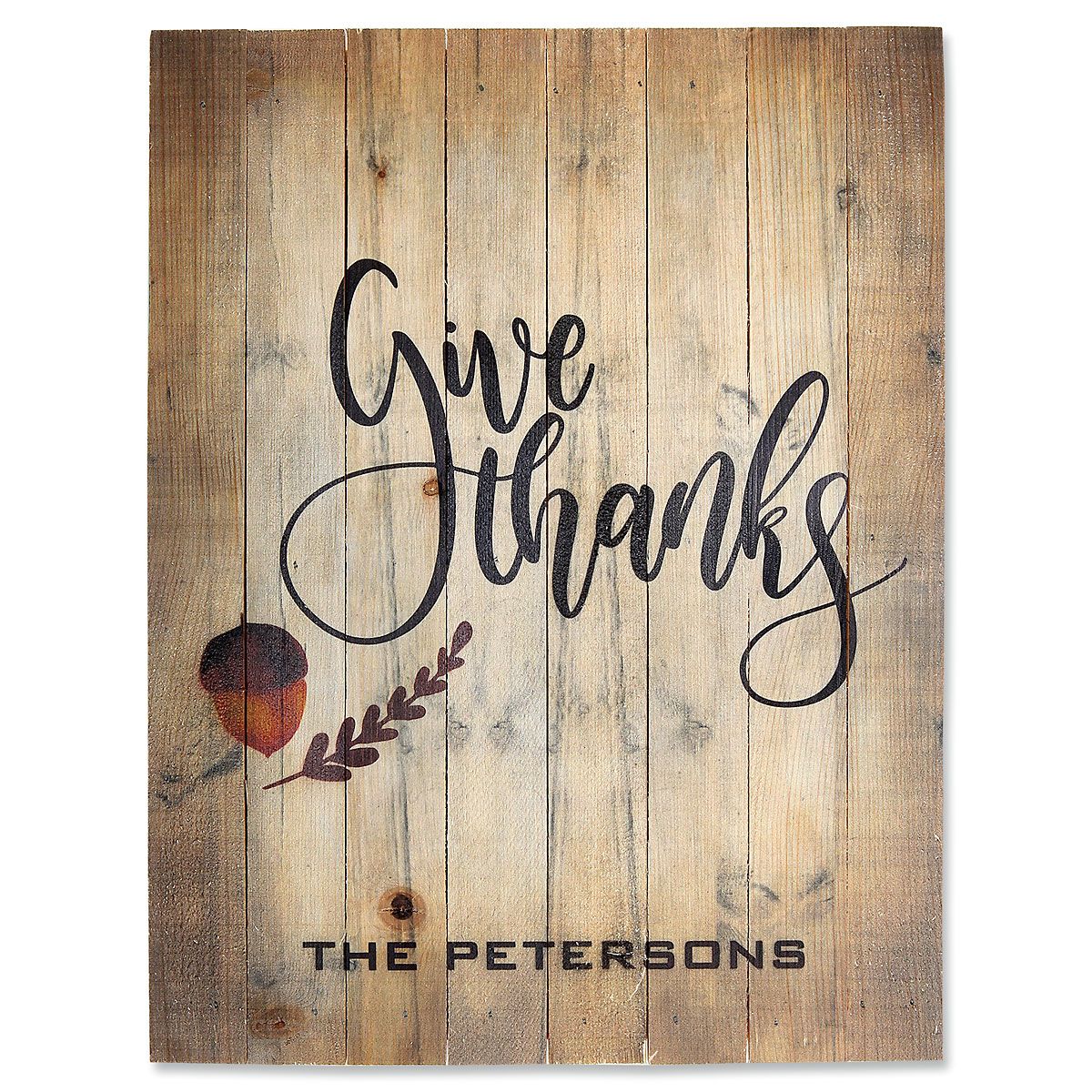 Add a touch of whimsy to the "kids table" with turkey-themed cutlery holders that will make the little ones smile and help wrangle all those forks, knives, and spoons. A rustic piece of dining room wall art celebrating the season will add to the warmth of your Thanksgiving décor and remind everyone to be thankful. Don't forget to make all your guests feel welcome before they step inside your home with a seasonal doormat expressing your thankfulness for all the good things that good food, good friends, and good times bring.