Christmas is just around the corner, and we've got some inside information for those of you who are shopping for children this year. Perfect not only for Christmas time, but also great choices for birthday gifts and other special occasions, we've got the lowdown on the top gifts kids are clamoring for this year, and we're about to let you in on the secret!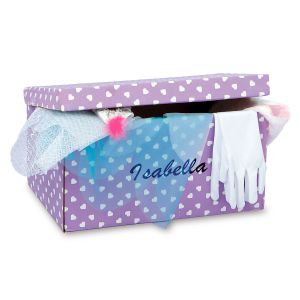 When children want to let their imagination take over and help them become something different, a dress-up trunk provides the perfect opportunity to let the inner diva come out and play. For a dress-up trunk that will keep the little ones entertained for hours, check out this personalized dress up trunk for children aged three and up.
For the child who loves purple and prefers polka dots, a piece of rolling luggage with white dots on a purple background is the perfect present. This is a gift that can be used as a rolling backpack or a fun travel bag, featuring three large zippered pockets for easy access to papers or personal items. Made from sturdy, double-stitched polyester with a telescoping handle and strong plastic wheels for easy rolling, this 23" tall rolling luggage can be personalized for that special child.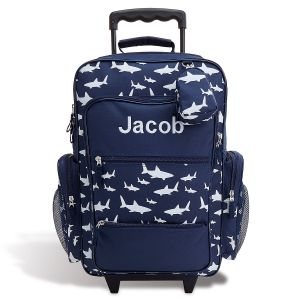 The child who loves sharks will be thrilled with an 18" piece of rolling luggage featuring the likeness of a shark on the face of the luggage, on a bold blue background decorated in a shark theme. Personalize the coordinating green pocket trimmed in blue and your child will be thrilled to call this scary-cool rolling shark luggage their own.
The doll collector will get a kick out of a doll that comes with eight outfits and her own personalized pink travel trunk for keeping it all together. This trunkful of fashion fun will keep kids busy changing the outfits for this adorable 7" tall doll, putting her down for a nap with her sleeping bag and pillow, or brushing and styling her hair.
Speaking of sleeping bags, kids love our personalized unicorn sleeping bag and cool trucks sleeping bag, perfect for sleepovers with friends, camping in the backyard, a weekend trip to grandma's house, or building a fort in the living room. Thick and plump with comfort, these sleeping bags are made to last. A full-length zipper means these quality sleeping bags are easy to enjoy, and the cool designs will keep your kids smiling all the way to dreamland.
Mermaids and beach waves and sharks, oh, my! Who says beach towels are just for the beach? Kids everywhere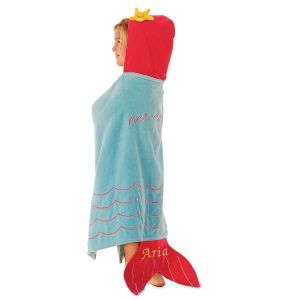 love these colorful, luxurious, high-quality personalized beach towels made of 100% absorbent cotton and featuring mermaids and sharks for a day at the beach or for wrapping up in after a bath. With a custom-embroidered name on the bottom of their personal towel, there will be no doubt which one belongs to whom.
Is there an aspiring equestrian in your midst? A personalized take-along show horse stable will delight and amaze with stable doors that swing open so eight toy horses can come out to play. A comfortable handle attached to the stable roof makes for easy carrying to the next big horse show.
For fun the whole family can enjoy, there's nothing quite like an exciting game of family bingo. Complete with everything you need for a night of family fun, this classic game will keep family members of all ages engaged for hours.
For the budding builder among you, the personalized Play-Doh carrier will spark creativity for hours of fun for kids aged three and up. This toolbox can be customized with a name up to 10 characters and includes 23 built-in shape molds, six cutters, and a playmat. Add some Play-Doh and you're good to go!
Every builder needs bricks, and our collection of 24 building bricks will keep little minds busy designing and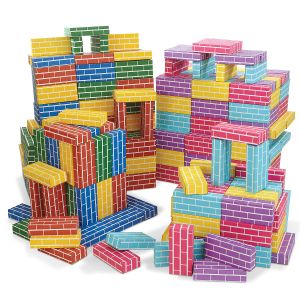 building towers of all shapes and sizes. With no sharp edges and strong enough to stand on, these corrugated cardboard bricks are easy to use and can stand up to daily demolition.
Your future fireman, policeman, or EMT will enjoy a huge 46-piece collection of emergency vehicles including cars, trucks, and figures he or she can position on a playmat included for kids aged three years and up. When everyone is safe and sound, your first responder can pack up all the gear and tuck it safely away in a handy plastic storage bin.
There you have it; the top gifts kids will be looking for under the tree at Christmas or at their next birthday party. Choose one or more from the list above and prepare to be bombarded with squeals of delight and lots of hugs from happy kids.