The world would be a very different place without moms. Mother's Day is coming soon, and you may be wondering what to buy for your mom this year. Mother's Day is set aside for us to honor our mothers, but every mom is different. What works for one mother wouldn't be the right kind of gift for another. Never fear, we found gifts to suit any mom out there and compiled a handy reference list of ideas to spark your creative gift giving this Mother's Day.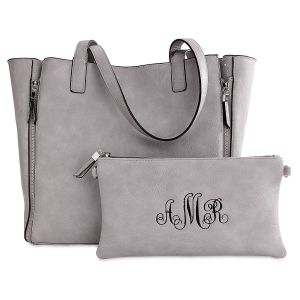 Moms are known for sharing just about everything they own with whoever needs to borrow something, and sometimes the borrowed item never makes it back to Mom. That won't happen with personalized carry-all tote bag with matching purse. Choose from lovely lavender, rich red, pretty pink, gorgeous gray, beautiful bone, blissful blue, or bold, classic black. It's a beautiful, practical gift mom will love!
Does Mom love to take and share photos of the family, pets, or favorite places? Give her a photo gift she'll love, like a photo necklace, photo plaque, or photo candle that will make her light up with delight on Mother's Day.
Sometimes moms need to unwind after a busy day of taking care of everyone else's needs. That's the perfect time to enjoy a glass of her favorite wine in a beautiful personalized stemless wine glass. Does your mom need something to carry her favorite beverage with her on the go? Opt for a personalized confetti tumbler with a handy no-spill lid and sturdy straw for beautifully dazzling hydration anywhere. Help her keep this sparkly sipper close at hand while she keeps car clutter contained with a Personalized Car Console Organizer Tote.
When mom gets a rare moment to herself, she might enjoy a relaxing cup of tea in a special photo mug made with her in mind. On chilly days, mom can wrap herself up in the warmth of your love and a cozy Monogram Sherpa Photo Throw to enjoy her "me time." Add a pair of Bella il Fiore Spa Slippers, and mom will lounge in ultimate comfort.
No matter how hard we try, we could never spoil our moms the way they spoil us, but we can sure try! If your mom is close by, be sure to block off some special time just to spend with her and show her how much she means to you. We hope you have a wonderful Mother's Day this year spending time with those you love.