"I love you." Those three little words mean so much, and yet somehow fall short of expressing how you truly feel.
But actions speak louder than words, and Valentine's Day is really about saying "I love you" in more meaningful ways. True Romeos use the occasion to be creative and find thoughtful, original expressions of love.
To help you be a romantic hero this Valentine's Day, we've put together 10 creative ways to say "I love you" without necessarily saying anything at all. Choose your favorites, or use the ideas as jumping-off points to create your own personalized romantic gesture.
1. Leave hide-and-seek love letters.
Write little love notes to your mate and leave them in unexpected places where they will eventually be found, such as in a sock drawer, a packed lunch or even in the freezer. That way, they will regularly be surprised by your thoughtfulness.
2. Let food do the talking…
Whisper It Sweetly. Every year, Sweetheart Conversation Hearts feature new messages. Share some with your sweetie.
3. …But Why Stop There?
Take conversation hearts a step further with Candy Heart Glass Ornaments. Speak the language of love—"I'm yours," "Hug Me," "Kiss Me," "You're Sweet." Blown glass set of 12 heart ornaments—3 of each sentiment—in delightful frosty tones. Arrange in bowl, hang on tree or tie onto gifts.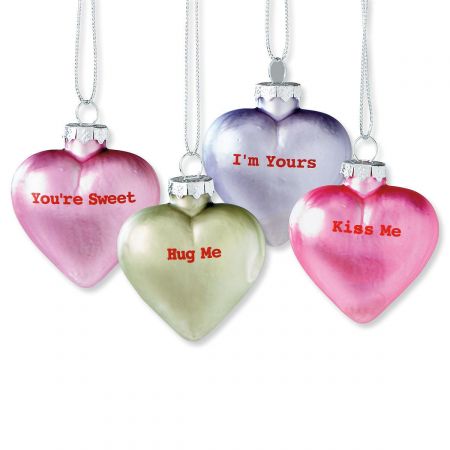 4. Put it on paper
Handwrite a Letter. In this fast-paced, high-tech world, you may not remember precisely the last time you got a letter written by hand, but you probably remember how good it felt to get one. Spread that feeling by writing one yourself. No need to make it a love note; just share your day with someone.
5. Make Coupons!
Coupons are something any family member can make by hand or on a home computer. Kids might make them redeemable for chores or other good deeds. For a sweetheart, you could make them good for a kiss, hug, or back rub at any time.
6. Say it with roses
Red roses are the international symbol of love, so you can hardly go wrong giving roses for Valentine's Day. Surprise at home with this Red Rose Heart Wreath that features faux roses that mimic fresh, deep red roses. By presenting such a classic in a new way, you can make an even bigger impact.
7. End a Fight
Being the first one to say "I'm sorry" — even if you're still feeling hurt — sends a whole lot of love.
8. Get Active
After dinner, take the kids power-walking, jogging, or to a family-friendly yoga class. Feel-good endorphins generate closeness and promote healthy living.
9. In Song
If you have the talent, nothing is more romantic than writing and performing an original, personal love song. If you don't have that kind of talent, you can still woo her with a karaoke version of a classic love song. If you completely lack any kind of musical talent and can't even carry a tune in a bucket, perhaps you should stick to reciting poetry.
10. Tell the world on social media
For a less subtle approach, consider making a public proclamation of your love on a social network. Posting on social media is essentially the modern version of shouting it from the mountaintops, and public affirmation carries a lot more weight than something said in private. And perhaps February 14 is the day you make it "Facebook official" and change your relationship status.